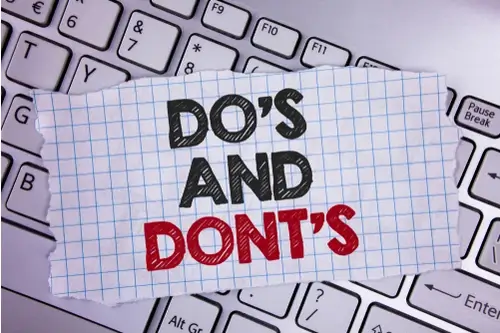 These may seem simple and obvious, but they can make a big difference.
DO's
Always give us a call if you have any questions.
Provide requested documents in a timely fashion.
Continue paying all of your bills on time (including your mortgage or rent).
Talk to us before you pay off any loans or credit cards, charge offs, or collections.
Remember we're on the same team. We WANT to help you get a loan!
DON'Ts
DON'T change your job, residence or marital status.
DON'T make major purchases such as: cars, boats, cosmetic surgeries, jewelry.
DON'T switch banks or make any cash deposits into your bank accounts.
DON'T close any credit card accounts or consolidate your debt.
DON'T apply for new credit lines or open a new credit card.
DON'T take out a new loan or co-sign on a loan.
DON'T start any home improvement projects.
DON'T have your credit pulled by other companies.
DON'T dispute any information on your credit report.
Following this simple advice will save you many unnecessary headaches and delays in getting your next mortgage loan.
Call us if you've been holding off buying a home because you can't afford a big down payment or you don't think your credit is good enough. We offer new programs that can help you even if you don't have a large down payment or perfect credit.
Click here to begin the application process, or click here to contact us and discuss your situation.
Please consider forwarding this email to any friends or family that are in or will be in the market soon to buy or refinance a home.