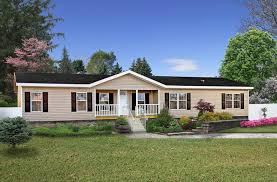 Single Wide, Double Wides, Triple Wides, and Multiwides - Purchase, Refinancement and Cash Out Refinancement
PROGRAM OVERVIEW:
The home can consist of one or more transportable pieces commonly referred to as single wide, double wides, triple wides, and multiwides. • The home is constructed in a factory on a permanent steel frame or chassis. • The home is transported to site where axles and wheels are removed. • The home is then permanently attached to a foundation system
ELIGIBLE:
• Constructed after June 15, 1976 • Classified as real estate • Built and remain on a permanent chassis
• Designed to be used as a dwelling with a permanent foundation (foundation systems must follow FHA guidelines)
• Built with a finished grade elevation at or above the flood elevation frequency
• Situated in fee simple, on land owned by the borrower • Not previously installed or occupied at any other site or location
• Permanently affixed to each transportable section evidencing compliance with the HUD Codes PROPERTY ELIGIBILITY REQUIREMENTS
INELEGIBLE:
• Singlewide manufactured housing is not permitted for Conventional, FHA One-Time Close and VA One-Time Close (OTC) transactions
• Manufactured homes in a:
• Leasehold estate
• Park not held in fee simple ownership ("trailer park" setting)
• Condominium project
• Manufactured home that has been moved or traded
USDA ELIGIBLE PROJECTS
USDA defines a MANUFACTURED HOME as any dwelling unit constructed partially off-site and then transported to a site to be completed and attached to a permanent foundation.
• Same requirements as FHA guidelines
• Property must be located in an eligible rural area
• Singlewide, Doublewide, and Triplewide units permitted
FNMA ELIGIBLE
• The manufactured home must be at least 12 feet wide and have a minimum of 600 square feet of gross living area
• Manufactured homes must be a one-unit dwelling that is legally classified as real property
• Doublewide and Triplewide units permitted
• The manufactured home must be permanently connected to a septic tank or sewage system, and to other utilities in accordance with local and state requirements
• The borrower must own the land on which the manufactured home is situated in fee simple
• Manufactured home must be less than 12 months old, never occupied and must include the site. The date of the purchase agreement must be within one year of the manufactured date displayed on the plate attached to the unit
• Mortgage Loan must cover both the unit and site
USDA INELEGIBLE PROJECTS
• Singlewide units are not permitted
• Manufactured Housing units in a condominium project are not permitted
• Trade equity is not permitted
• Traded units are not permitted
• Investment properties
• Units that have been moved from its original location
• Units located on leasehold estates
• Properties that are not suitable for year-round occupancy regardless of location
CASH OUT REFINANCEMENT
• To be eligible for a cash-out refinance, the borrower must have owned both the Manufactured Home and land for 12 months or more prior to the application date. The value for a cash-out refinance Mortgage is based on the current appraised value of the Manufactured Home and land
• For a cash-out refinance transaction secured by a Primary Residence, the maximum loan term is 20 years, for Mortgages with LTV/TLTV/HTLTV ratios less than or equal to 65%